Innovative Technology for Modern Eye Care
Your eyesight is precious, and our team at Pompton Eye & Vision Care wants to help preserve it. To do this, we are dedicated to implementing innovative technology, including specialty lenses, into our eye care services.
90% of vision loss is preventable, and Dr. Ference and the rest of the team are passionate about helping you enjoy clear, healthy vision. We invest in technology to help prevent vision loss and prescribe premium products to help your vision perform at its best. We have you covered, whether it's OCT and Optos for eye disease management or ortho-k and Neurolens to address specific vision concerns. Contact us to schedule your appointment and explore all the technology we have to offer.
Request Appointment
Sophisticated Preventive Care
Our team strongly believes in preventive care. We aim to educate our patients about proper ocular and vision health as well as potential vision loss, and our technology assists in these efforts. Early detection and management of eye diseases and other eye issues are essential and can help keep your eyes and vision healthy.
When you visit us, you can expect quality care with sophisticated technology implemented throughout your eye examination.
Preventable & Treatable Vision Loss
We truly believe that everyone should live with healthy eyes and vision, and our goal is to educate our patients about preventable vision loss.
The main contributors to vision loss include:
Uncorrected refractive errors
Glaucoma
Age-related macular degeneration
Diabetic retinopathy
Our team helps diagnose and manage these vision issues at their early stages through consistent eye exams and innovative technology.You can also learn more about the different forms of eye disease by visiting our eye disease diagnosis & management page.
Our Technology
When you visit us for your appointment, you can expect more than just a simple eye exam. We implement innovative technology throughout our eye care services to address eye disease and other issues. Our team strives to continuously evolve and find new ways to preserve and maximize your vision.
Optos Ultra-Widefield Retinal Imaging
Optos Ultra-Widefield retinal imaging allows our team to capture 200-degree high-quality images to diagnose and manages different forms of eye disease, including diabetic retinopathy and age-related macular degeneration.
Optos Ultra-Widefield retinal imaging works by using low-powered lasers and scanning technology to capture a digital image of the retina quickly and noninvasively. This device can help us monitor changes in your vision and develop a treatment plan for your specific needs.
Optical Coherence Tomography (OCT)
Optical coherence tomography (OCT) is an advanced imaging technology that produces high-resolution, cross-sectional images of the eye. This noninvasive test uses light waves to produce detailed images of the retina, optic nerve, and other structures in the eye, allowing our experienced doctors to diagnose and monitor a wide range of eye conditions.
The measurements from OCT imaging can help our team diagnose and manage eye diseases such as glaucoma, age-related macular degeneration, and diabetic eye disease.
Olleyes VisualALL
The Olleyes VisuALL VR visual field perimeter is an innovative visual field testing technology that allows for efficient and accurate assessment of a patient's visual field. This advanced testing tool can detect and monitor the progression of eye diseases such as glaucoma, macular degeneration, and other retinal conditions.
Olleyes VisuALL field testing is a noninvasive, fully automated process that produces precise, detailed visual field results. This advanced technology provides a comprehensive evaluation of the patient's entire visual field, enabling early detection and monitoring of eye diseases that can lead to vision loss and other complications if left untreated.
Our Lens Technology
Our technology doesn't stop at just eye disease issues—we also offer dynamic lens technology to help address a variety of vision issues. Our team is excited to help you find the right lens solution for you.
Combining Technology & Eye Care
Dr. Ference and the rest of the Pompton Eye & Vision Care team take pride in exploring the latest technologies and familiarizing ourselves with how to best serve our patients. We combine innovative technology and eye care to create a comprehensive eye care experience for our patients.
Contact us to schedule your appointment today and find out how we can help maximize your vision.
Request Appointment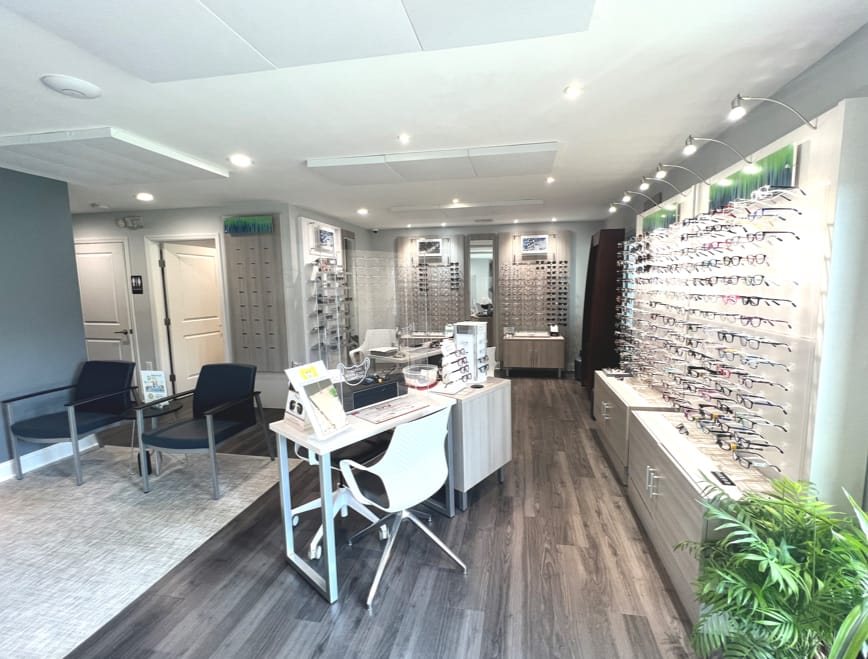 Our Address
170 Changebridge Rd. B5

Montville

,

NJ

07045
Our Hours
Monday

:

9:00 AM

–

5:00 PM

Tuesday

:

10:00 AM

–

6:30 PM

Wednesday

:

9:00 AM

–

5:00 PM

Thursday

:

10:00 AM

–

6:30 PM

Friday

:

Closed

Saturday

:

Once a Month (Call to Confirm)

Sunday

:

Closed